the monthly price is:
if you stay 10 month: small room is 200 euro and the big rooms are 230 euro
if you stay 4 or 5 month: is a bit more expensive
please note the Utilities are not included,
we calculate every month your consumption,
you only pay for what you use. its about 20 euro in summer and 40 euro in winter per person +-
.
2 flat-mates: boy from France and Spain
3 free rooms
.
** Address/Location **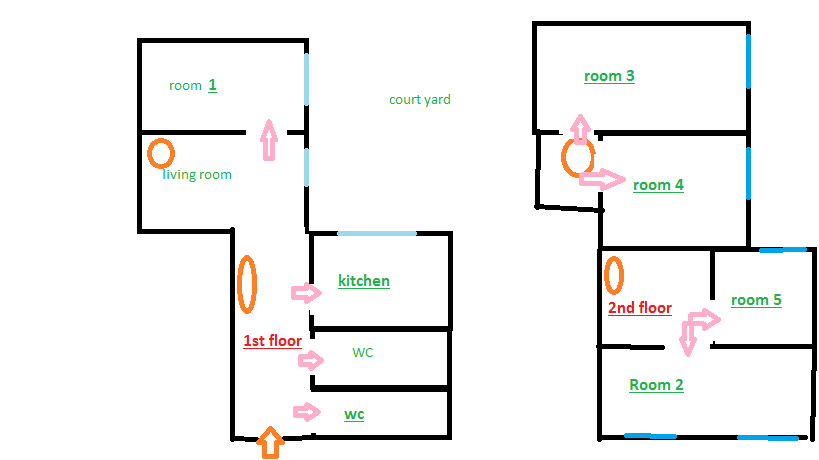 all free rooms:
.
.
Room 2:
.
Room 3:
.
Room 4:
.
Small room 5:
.
Common areas:
.
The flat have 5 bedrooms, 2 bathrooms, kitchen, and eat consists of 2 levels,
The flat is located on the ground floor, over 130 square meters!
the upper floor containing 3 large bedrooms, 1 small bedroom.
the bottom floor contains 1 larger bedroom a big living room the 2 bathroom and a kitchen,

in total:there are 5 separate bedrooms
2 bathrooms


the flat stays very cool during hot summer days,
and is a great bonus for the warm days of the summer,

internet connection with WiFi

fully equipped kitchen, with everything you will need for your stay including washing machine, microwave, oven, kettle, toast maker, hair dryer, coffee machine & iron machine

The Neighborhood

LOCATION:
the flat is very central it sits on fovam ter
located very close to Kalvin Ter (metro stop), Vaci Street, Raday Street, National Museum, Great Market Hall, library, Szabadsag Bridge, Gallert Baths and the Citadella Hill.
its consider the university area 🙂
Getting around

Closest Transit: Kalvin Square

Metro: Kalvin Ter (M3)
Fovam Ter (M4 newly built metro line)

Trams: 47, 49, 2, 4 and 6

Buses: 9, 15, 83



for more information please contact me..
i'd be more than happy to help.